El invierno llegó hace unos días a algunas partes del mundo y junto con él, también llegaron las famosas guías visuales que nos muestran que series anime tendremos durante la temporada. En este caso les mostraremos lo que este frío nos depara en cuanto a series nuevas, secuelas, películas y OVAs.
Aquí en Gentokyo ya tenemos a nuestras series esperadas como la segunda temporada de Chūnibyō demo Koi ga Shitai! Ren traído a todos por Kyoto Animation, así como por supuesto, la segunda temporada de Silver Spoon, serie que pudimos gozar por medio de Crunchyroll.
Series como Nisekoi, Space Dandy y Mahou Sensou, buscan posicionarse dentro de las favoritas junto a PUPA.
A mi gusto, Sailor Moon 2014 despertará la emoción de los fans de shoujo, quienes pos supuesto, estamos a la espera de ver que ocurre con la serie que marco nuestra infancia.
Por otro lado y a modo de erradicar el frío característico de invierno, viene la esperada serie ecchi Maken-Ki! Two, la cual llegará a los ojos de aquellos que esperan disfrutar de uno que otro "rebote" de pechos.
Respecto a la pantalla grande, nuestros amigos en Japón podrán deleitarse con producciones como The Idolmaster Movie, Tiger & Bunny: The Rising, Budha y la adaptación de la serie Moretsu Pirates.
Recuerden que este listado puede cambiar o modificarse, de hecho esta guía visual es la versión 5.0, por lo que pendientes de este apartado en donde se ira actualizando la guía en caso de requerirse.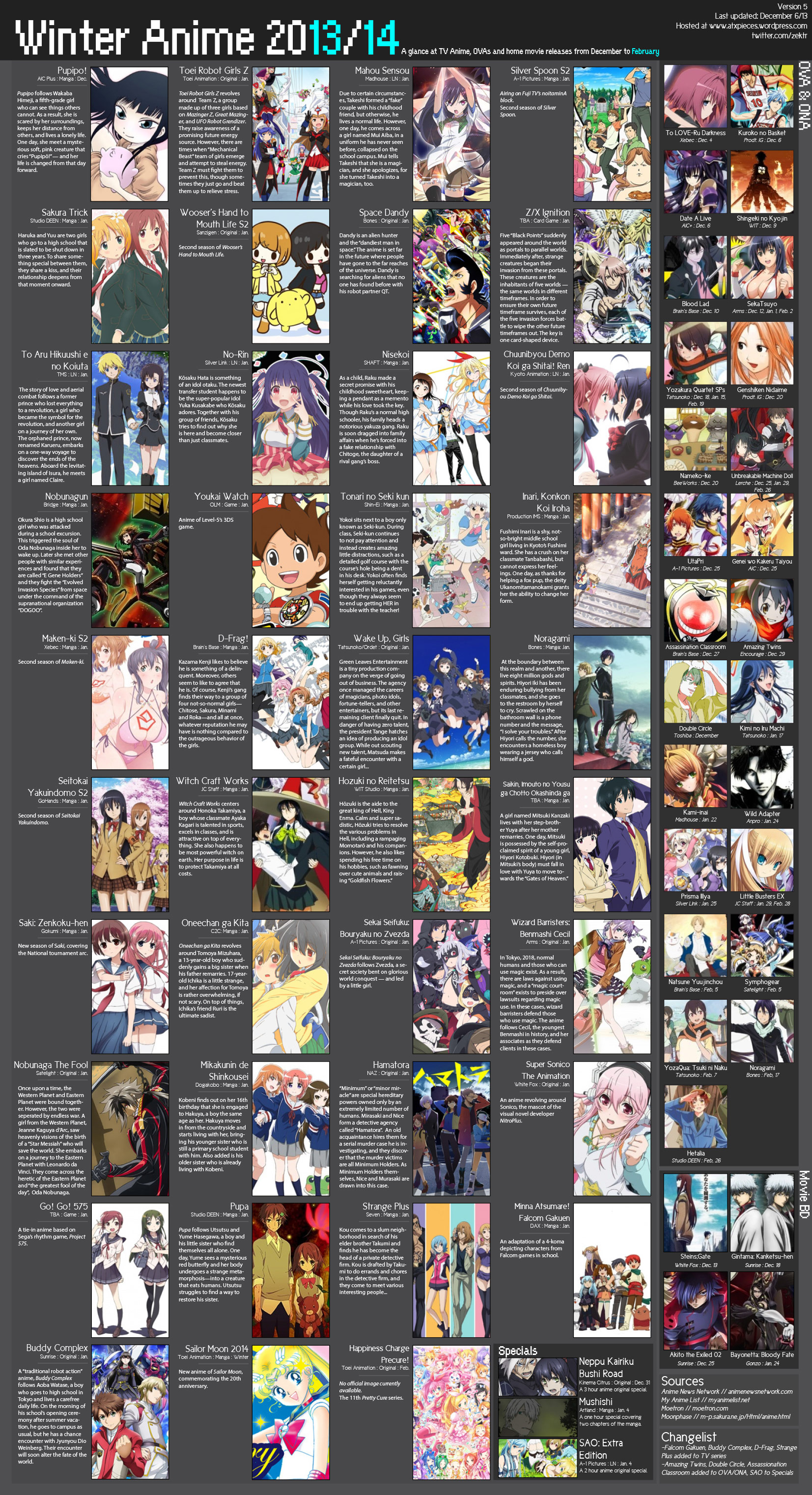 Y para que conozcan los animes a estrenarse, les dejo algunas tablas con información de cada título por mes enlazado a los sitios oficiales de cada proyecto.
Estrenos TV/Películas/OVAs
Diciembre 2014
Enero 2014
Febrero 2014
*TBA
Con información de Moetron